Assessment systems
Do you want to select the right persons for management and sales positions, based on a clear impression and recognition of their potential?
Do you want to detect strengths and weaknesses as well as function-specific skills and base your staffing decisions on these?
Our offer
We will plan and organise your assessment so that you receive the most important assessments for the selection decision and subsequent development planning.
Targets
The method used for assessments is to use model situations that are relevant for a target task or target position to monitor and evaluate significant participant behaviours regarding the criteria required.
Extending the grounds for decision-making.
Rendering the grounds for decision-making transparent and resilient.
The assessment clarifies the following for each participant:
which strengths and competences have already been developed,
what potential and aptitude there is
which deficiencies and weak spots are noticeable,
which "corrosive" tendencies could trigger conflicts.
A selection decision can thus be taken to determine to what extent individual candidates are suitable for the target position and which development steps would be required.
During the development assessment, the candidates receive feedback about their current competence situation, suggestions for making use of their potential and how they could develop their skills.
Requirements
Framework must be appropriate for participants, procedure must be accepted.
The random sample of tasks must be representative.
Evaluations must be standardised.
The cost/benefit ratio must be right
Personal base factors
The aim is to identify the group of "high potentials" correctly and transparently and to provide the others with suggestions on the direction in which they need to move.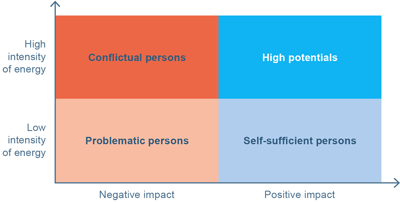 Characteristics of personality patterns